By default you directly install apps from Google Play store to your smart phone or tablet. But do you know that you can also easily download an APK file directly from Google Play store? APK file is the Android app installer package using which you can directly install an app on your device, same as Setup.exe file you use on your Windows PC!
There are several reasons I like to download APK files instead of directly installing from Google Play store:
1. If you have APK files, you have freedom to install the app on your device without having to connect to and downloading from Google Play store. It also acts as some kind of backup of your apps.
2. Often Google Play store suddenly might not allow you to install particular app telling that 'your device doesn't support this app' – while you know well that your device is able to run that app. That's very annoying!
3. Also I have seen incidents where some apps can't be downloaded in particular country or region.
Since Google Play store is the most reliable place to download APK files, you might not want to download APK files from any other risky sites or sources.
Download APK Files from Google Play Store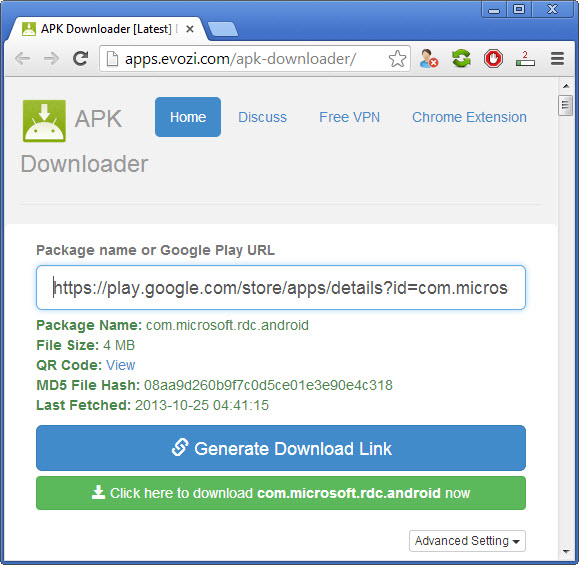 Evozi  provides a cool APK downloader using which you can easily download Android APK from Google Play Store for any app at single click. Here is the link where you can download APK files: apps.evozi.com/apk-downloader/. All you need to do is just provide a link of Android app on Google Play Store and click 'Generate Download Link' button. It will show you a download link to download the APK file to your computer using your browser.
Evozi also provides a Chrome extension (plug-in) which allows you to download APK from Google Play Store directly from Chrome browser.
Difficulty Installing an App Using APK File on Your Android Device?
Due to security reasons, by default your Android device may not allow you to directly install an app using APK files. Using your phone's menu, you just need to go to Settings -> Applications. In Application Settings, you will see an option 'Unknown Sources – Allow installation of non-Market applications'. Simply check that option and now you may install apps in your device using APK.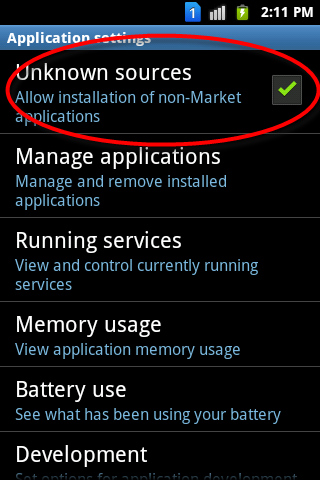 I would recommend using this option carefully. Please make sure you do not install any app from unreliable sources even by mistake.