Apart from looks, what are the reasons to choose Windows 8 over 7? Windows 8 is a very different Windows. Prime new features most talked about are tile based start screen and new HTML5 based App model. Its user interface has been changed to make it better suited for touch-screen input in addition to the traditional mouse and keyboard. But there are a few things I liked about Windows 8.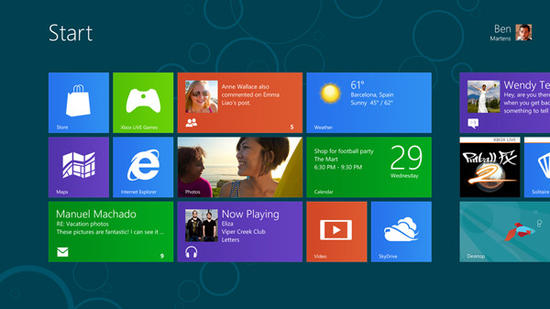 Tile based Start screen
Tile based start screen is the first feature you'll notice. What is a tile? A tile is a program shortcut displayed on the home screen (or desktop) of Windows 8; but it's much more than that. A tile is a small, rectangular program interface similar to an icon. It offers few enhancements over traditional Icons. Windows Phone users might be aware of this.
Tiles are live and more interactive. Programs can display information on the Tile like notifications, current status. This means, you can get notifications and details from a program even when it is not still opened. Users can click on the tile and perform some operations without opening the application. Tile is bigger than Icons allowing programs to display more information on it.
For example, a tile for your mail account can show the number of new emails. A weather channel Tile can display the current weather. A stock ticker Tile can display the current trading value of few stocks. In short, a Tile can do the job a gadget on your desktop and at the same time will be a shortcut to your application.
HTML5 based App Model
Windows 8 seems a huge radical rethinking of Windows — and one that's beautiful, logical and simple. Microsoft is introducing a Windows App Store that's modeled on Apple's. There are also Music and Video apps that link to Microsoft's music and video stores. Windows 8 will support a new App model with HTML 5 and Javascript as the native programming language. HTML 5 applications will be able to take advantage of the new UI model introduced in Windows 8. Microsoft's own proprietary technologies like .NET, Silverlight and WPF will also be supported.
Touch friendly operating system
This can be cited as a historical change in Windows. Windows 8 is touch centric. It will require Windows users to learn new ways of interacting with their computers. New Apps targeting Windows 8 will have larger icons, buttons and controls for easy touch operations. You can move, reposition and slide using your fingers.
Running app stack gesture/mouse to top left corner
There's a new way to navigate among running apps. On a touch screen, you swipe a finger in from the left edge of the screen and then back out. This displays a vertical stack of thumbnails for all your running apps. Just touch one of these thumbnails to switch to the app it represents. This gesture took me a little while to get the hang of, but once I did, it proved an extremely quick and useful way to navigate around my applications.
Semantic Zoom
This feature lets you pinch the Windows 8 Metro Start screen to more easily see all your app tiles. Just pinch on the screen, and the tiles will not just shrink, but intelligently resize to remain useful. You can rename and move groups of app tiles around using this gesture, too, for better organization.
Fast, more responsive and dramatically smoother
Microsoft has made some very welcome tweaks to design and looks. Applications snap open, and flipping between them is so fast. Windows 8 provides integration with multiple services like Facebook, Google, LinkedIn, Flickr. Using these new apps and hubs with a touch-screen is fun. The pre-installed People, Messaging, and Mail apps in particular demonstrate the new Windows 8 way of using (and, for developers, building) apps.
Windows 8 is made for speed. Earlier, most reviewers range from describing it as speedy and elegant to unintuitive, but those who have used the operating system seem to enjoy the experience.This time, really, I'm impressed by the speed and elegance of a Microsoft interface. With Windows 8, everything feels easy, bright, beautiful, smoother and bigger.
The other side of the coin
Unfortunately, some people might not like to welcome Windows 8. Often people don't like change at first. Just look at the way every little tweak to the Facebook interface is received. It takes a little time, and a little trial and error, to discover how it works, and how to get around.
But for me, Windows 8 is an operating system for which I was waiting for long!