Recently I came to know about a good, handy program named WordWeb that gives you the definition, synonyms, and antonyms of any given word both in offline and online mode. It also supports pronunciations.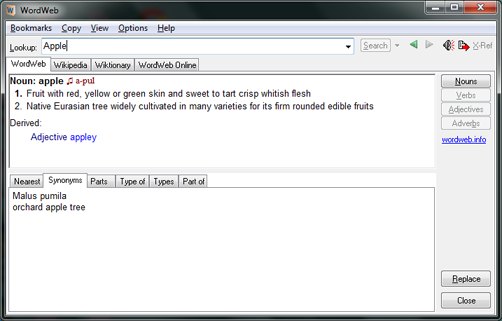 The interface looks user-friendly, even if you've never used WordWeb. After you type a term into the Lookup dialog box, the word's definition will show up in the upper panel, along with tabs that link to various wiki functions.
The lower panel offers tabs for synonyms, antonyms, and related words. Hot key support is this program's most useful feature is its you simply use a hot key combo when the cursor is pointed over any word, and WordWeb will pop up onscreen with all pertinent information.
There are also tools for changing the database to one of several English variations, altering the text size, and disabling WordWeb from recognizing offensive terms. The depth and functionality of WordWeb would be worth paying for, but thankfully you don't have to redefine your budget to get it–it's free.
As the publisher notes, this thesaurus/dictionary can be used to look up words from almost any program. In addition to displaying sense definitions and synonyms, WordWeb can find sets of related words. WordWeb works off line, but when online you can also quickly view Web references such as the Wikipedia encyclopedia.